By Colin Murphy, Senior Writer

Too often the grand ambitions of governments, mayors, communities, and residents run into a challenge – Who can bring our ideas to life? 
On the other side of the spectrum, every year millions of mission-driven college students and graduates want to make a difference but encounter challenges to getting "in the door" in the right places or finding the career that gives maximum purpose to their education and skills.
Could innovation work in city halls be the difference-making opportunity that bridges this gap?
This summer, five Johns Hopkins graduate students proved that the answer is, "Yes." 
These students, who were placed in four cities around the world, participated in the opportunity to partner with city halls in Bogotá, Colombia; Erie, Pennsylvania; Fortaleza, Brazil; and Salt Lake City, Utah to advance the cities' work as a part of the Love Your Block and Innovation Team (i-team) Programs. 
"I've always been interested in policy and community development, but this experience opened my eyes to innovation," said Janet Ortiz to an audience of fellow Hopkins students, faculty, and Bloomberg Distinguished Professors at the new Johns Hopkins University Bloomberg Center at 555 Pennsylvania Avenue in Washington D.C. during the Bloomberg Center for Public Innovation at Johns Hopkins' Summer Scholars Showcase in September. 
Ortiz, a master's student at the Johns Hopkins Bloomberg School of Public Health, collaborated this summer with city leadership and the Love Your Block team in Erie, Pennsylvania, to streamline access to housing improvement grant funds for families with diverse linguistic and educational backgrounds.
Through the Summer Scholars Program, Ortiz found demand for the meaningful work her ongoing education has prepared her to do. "I had no idea there was so much innovation in government," Ortiz said. 
In sharing their summer experiences at the showcase, the group reflected on the variety of opportunities that exist for motivated and talented young people to make a positive impact for people in cities around the world by applying their diverse backgrounds, disciplines, and fields of study to urgent public challenges. The Summer Scholars – who worked on projects ranging from increasing recycling rates and growing social inclusion to addressing waste management processes and improving public health to scaling civic engagement to operate more broadly and inclusively – championed the program as a way to unite their academic pursuits with opportunities to create public value for residents of cities.
Shaping policy at the local level
Mustafa Ahmad, , a master's student at the Johns Hopkins School of Advanced International Studies (SAIS) and an alumnus of the Johns Hopkins Bloomberg School of Public Health, worked with IPLANFOR, the planning institute for the city of Fortaleza, Brazil, to develop metrics to measure solid waste management's impact on public health.
"When I first started in my (public health) program, my interest was in national policy, but local government is more exciting," Ahmad said. "It has shaped the way I think about how we approach development issues and public health problems. Engaging local governments and stakeholders is very important, and it's a mindset I want to take with me as I go through my coursework and apply in an academic setting but also as I build a foundation for my career."
Cities grow the capacity of their teams – and residents feel the benefit
The valuable experience for the scholars was also a win for host cities and their residents. Mayors and leaders from the four cities that hosted the Summer Scholars lauded the boost in energy, creativity, and innovation capacity the scholars added to city hall. 
"We loved working with the Summer Scholars program from the Bloomberg Center for Public Innovation," said Katie Riser, Special Projects and Volunteer Program Manager in the Office of the Mayor of Salt Lake City, which hosted Fayez Ahmed, a Johns Hopkins Carey Business School MBA candidate who worked to scale Salt Lake City's Love Your Block grant application process to all neighborhoods. "It really made it such a seamless, collaborative, (and) beneficial experience for us. Fayez (was) the missing link to our Love Your Block team. I love how, from day one, (he) jumped right in – joining community events, sitting down with leaders, interviewing staff, getting (his) hands dirty and cleaning up and beautifying our city."
Innovation opens doors for interdisciplinary collaboration and multi-sector public service focus
Anthony Sernus, a master's student studying international economics and finance at SAIS, worked with LABiFOR, the innovation lab in Fortaleza, on the Re-Ciclo project, which sought to increase the city's recycling rates while boosting the social inclusion of the city's trash collectors, known as waste pickers or catadores. Sernus spoke of the ways in which his experience allowed him to think broadly about how interdisciplinary learning can expand collaboration on public issues that cut across sectors.
"One of the things that was really inspiring to me about the innovation lab in Fortaleza was the overlap of the various projects they were working on," said Sernus. "They worked in tandem with each other, and none of them were siloed on their own projects. For example, in Fortaleza, they just won a grant from Bloomberg for $1 million to continue to develop their bike lanes in the city, and that plays right into Re-ciclo, as waste pickers use tricycles, not scooters, that go on the street. You have other sustainability efforts, such as measuring air quality, and encouraging people to use bikes, and that plays into air quality. It was very inspiring to see all these overlapping themes with different projects, which encouraged me to think critically. I'm currently taking four classes, but I'm no longer thinking of them as four siloed classes. I am trying to think more broadly about how the themes connect. I will continue to hone that skill going forward."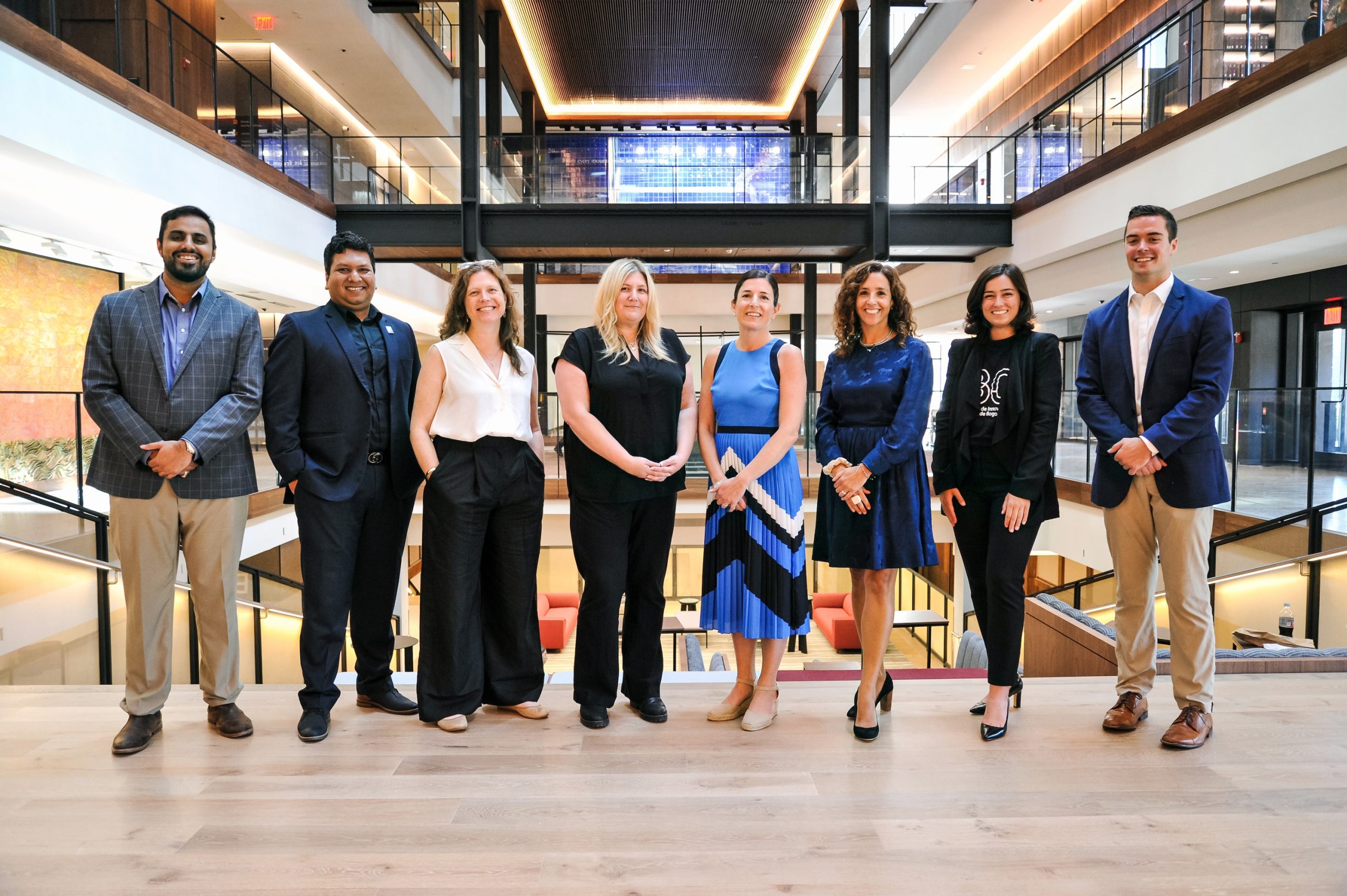 (L-R) Bloomberg Center for Public Innovation's inaugural Summer Scholars Mustafa Ahmad, Fayez Ahmed, Senior Advisor Dr. Leigh Graham, Johns Hopkins Associate Vice Provost for Public Sector Innovation Beth Blauer, BCPI Executive Director Amanda Daflos, BCPI Academic Director Dr. Francisca Rojas, and scholars Emma Miner and Anthony Sernus at the Johns Hopkins University Bloomberg Center at 555 Pennsylvania Ave in Washington, D.C., on September 15, 2023. (Colin Murphy)
A range of opportunities – and a commitment to public innovation
Emma Miner, a master's student at the Bloomberg School of Public Health, collaborated with El Laboratorio de Innovación Pública de Bogotá, known as iBO, the Public Innovation Lab of Bogotá, Colombia. There, her work focused on field-testing digital tools to bolster women's access to essential support services as part of the Bogotá Care Blocks initiative. Miner spoke of the opportunity for students of all specialties and professionals in all fields to participate in public innovation.
"One aspect that really stood out to me was how many jobs are available in the public sector," said Miner. "Not just in the mayor's office. Even in the Bogotá innovation team (i-team), we had people of all different backgrounds, from law, from public health, we had digital designers, creative minds, people who studied economics. Bringing all of this together really helped create a more diverse experience where you can tackle problems in a very different manner and capitalize on all the different experiences and knowledge that everyone was bringing to the table. It was an environment I really loved working in."
Miner likewise asserted the importance of civic engagement for local governments to address challenges, an opportunity the Summer Scholars program offered her along with a validation for her personal aspirations.
"(The program) really reaffirmed my desire to work directly with communities," said Miner. "Communities have the most knowledge, and you need to speak with communities to fully understand the problem before you start to think about solutions. If you're not speaking with the communities, you're not developing something that's impactful."
A pipeline to public innovation careers
The Summer Scholars were an apt fit for the demand within city halls for the data capacity, human-centered design, and innovation methodology needed to address complex and ever-evolving challenges and opportunities, and the Center is actively creating a pipeline to fuel the present and future of public innovation. 
"This year's Summer Scholars proved how much positive impact can be generated by just one person in just a few short months," said Amanda Daflos, executive director of the Bloomberg Center for Public Innovation at Johns Hopkins. "These students are on the forefront of a global movement to grow and embed innovation capacity in city halls and ignite interest in careers in public service."
That movement will get a boost from an expanding Summer Scholar program in 2024. The Center, which supports more than 60 cities around the world, is preparing to place Hopkins graduate students in more of its partner cities. Students interested in joining the expanded 2024 Summer Scholars Program cohort can access this interest form to receive updates about the program and application alerts.
"There's a critical need for the energy, passion, and expertise that smart, young people provide to city leadership," said Daflos. "The work of this year's Summer Scholars shows how students can make immediate impacts in public service while creating their careers in the public sector."
Jack Hau, Marketing Associate, contributed writing to this article.