By Colin Murphy, Senior Writer
This summer, five Johns Hopkins graduate students are boosting innovation capacity for mayors and city hall leadership teams in the Latin American cities of Bogotá, Colombia and Fortaleza, Brazil and the U.S. cities of Erie, Pennsylvania and Salt Lake City, Utah as part of a new, exclusive learning opportunity offered by the Bloomberg Center for Public Innovation at Johns Hopkins.
In projects focusing on a range of issues from neighborhood revitalization and women caregiver support services to waste management optimization and expanding economic opportunities for residents, the first cohort of Summer Scholars are partnering with residents and city leaders to contribute directly to Public Innovation and civic engagement in city halls.
"The Summer Scholars program is an incredible opportunity for bright young students at Johns Hopkins University to have real-time, on-the-ground exposure to the creative and innovative work of mayors and cities across the world," said Amanda Daflos, Executive Director for the Bloomberg Center for Public Innovation at Johns Hopkins. "This program will contribute significantly to BCPI's mission of building the pipeline of future public sector innovators."
The Summer Scholars bring diverse perspectives and skills to power innovation across a range of challenges and opportunities specific to their cities.
Improving Access to Services for Women in Bogotá, Colombia
In Bogotá, Colombia, where the Center supports a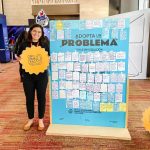 digital innovation team (i-team), Emma Miner is working with the Bogotá Public Innovation Laboratory (iBO) to field-test digital tools to improvewomen's access to social services as part of Mayor Claudia López Hernández's award-winning Care Blocks initiative.
According to Miner, who is a Master of Science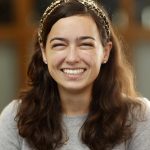 student at the Johns Hopkins Bloomberg School of Public Health, "The innovation lab places residents' needs at the center of their work. iBO is deeply committed to understanding the challenges that residents of Bogotá regularly encounter, and collaborating with residents…to co-create transformative solutions."
Measuring Public Health Improvement Opportunities in Fortaleza, Brazil
Mustafa Ahmad, a dual master's candidate at the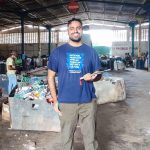 Johns Hopkins Bloomberg School of Public Health and the School of Advanced International Studies, is supporting Fortaleza, Brazil's IPLANFOR, the city's planning department. Ahmad is developing metrics that will help the city, a recent participant in the Center's Innovation Training Program, understand the impact of solid waste management on public health, paying specific attention to waste from the healthcare sector and how solid waste impacts diseases such as dengue.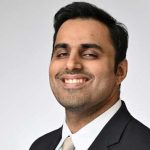 "By analyzing existing data, identifying knowledge gaps, and collaborating with local researchers and stakeholders, our work builds upon Fortaleza's history of intersectoral collaboration," Ahmad recently shared. "We contribute to the city's innovation capacity by combining data-driven insights with interdisciplinary approaches across government sectors."
Creating Economic, Social, and Environmental Benefits for Waste Workers in Fortaleza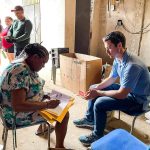 Anthony Sernus is working with LABIFOR, the innovation lab for the City of Fortaleza. Through civic engagement, Sernus is providing data collection and management for Reciclo, a circular economy project that brings previously informal waste pickers into the formal economy by providing a stable wage and benefits. The formal jobs validate and value individual waste pickers while increasing the city's recycling rates and cleanliness.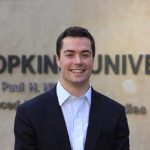 "It is very important to meet with residents and make sure that they feel heard and that their opinions are taken into account when designing public policies," said Sernus, a master's candidate at the JHU School of Advanced International Studies studying international economics and finance. "Reciclo has brought visibility to a sector of the workforce whose challenges previously often went ignored. There is an infectious, optimistic energy from both city hall and the waste pickers about the economic, social, and environmental benefits that the Reciclo project is creating."
Scaling Civic Engagement in Salt Lake City, Utah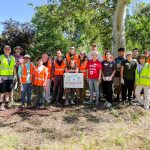 Fayez Ahmed is working in Salt Lake City, Utah, USA with the Office of Community Outreach and the Center-supported Love Your Block team to scale neighborhood civic engagement models to operate across the entire city. An MBA candidate at the Johns Hopkins Carey Business School, Ahmed is working closely and collaboratively with the city's team to grow the number and impact of community improvement projects such as park cleanups and public space restorations, and to bring more residents and community partners regularly into these neighborhood improvement processes through dedicated civic engagement.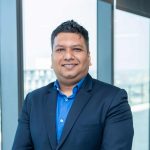 "There is a transformative power of community engagement, especially in cultivating social cohesion and a sense of belonging across generations," said Ahmed. "Engaging directly with residents of Salt Lake City, we are striving to bridge the gap between government and people, ensuring their equitable access to public services. All city governments can collaborate with residents to move to the forefront of innovation and make a positive impact on the lives of people."
Increasing Access to Funding and Resident-Led Home Renovation Projects in Erie, Pennsylvania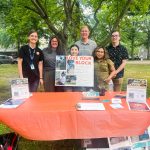 In Erie, Pennsylvania, Janet Ortiz is working with the city's Love Your Block team, which is supported by the Center, to redesign the systems families use to access funding for home repairs that make homes safer and more secure and neighborhoods more durable and connected. A master's candidate at the Bloomberg School of Public Health, Ortiz is expanding the team's resident engagement reach by serving as an intermediary between Erie communities and the city's Redevelopment Authority.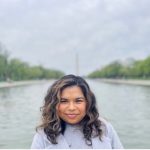 "Residents have emphasized the need for the city to be a good partner by collaborating on mutual efforts and having their concerns addressed and considered in decisions that will shape the future of Erie," Ortiz said. "What I'm most passionate about in my work for the city of Erie is the opportunity to uplift the voices of community members to enact community-driven change at the city level."
A Boost For Mayors and City Leadership Teams
The Summer Scholars' creativity, community engagement, data rigor, passion for public service, and interdisciplinary expertise provides leaders with added innovation capacity to address the wide-ranging issues facing their cities. 
"At the Center we are thrilled to continue to support our partner cities by placing talented, curious, and compassionate scholars directly in city halls to work on important issues side-by-side with public servants," said Dr. Francisca Rojas, Academic Practice Director at the Bloomberg Center for Public Innovation at Johns Hopkins. "We are confident that the innovations our Summer Scholars are helping to drive in their host cities will have positive impacts for people for years to come."
Follow the cities where these scholars are serving to learn more about how they are advancing and innovating for residents:
Bogotá, Colombia: Bogotá | Mayor Claudia López Hernández
Erie, Pennsylvania, USA: City of Erie | Mayor Joseph Schember
Fortaleza, Brazil: Prefeitura de Fortaleza | Mayor José Sarto
Salt Lake City, Utah, USA: Salt Lake City | Mayor Erin Mendenhall